Mutton has fallen out of favour in the west and that's a shame, as it's a wonderful meat. It's cheaper than lamb and, to my mind, tastes better. The taste has had longer to develop. You could, of course, substitute the mutton in this recipe for lamb, goat or even camel, but I urge you to give mutton a go.
Ingredients:
800 g mutton, cut into bite-sized cubes
600 mL beef stock (either home made or quality store-bought stuff)
4 cloves of garlic, crushed
4 sprigs of fresh rosemary, leaves picked
2 medium-sized brown onions, sliced
2 lamb kidneys (see relevant section)
2 dried bay leaves, crumbled
1 sheet of puff pastry, thawed
1 egg, beaten
handful of fresh mushrooms of your choice, sliced
a splash of Worcester sauce
a splash of red wine vinegar
a splash of milk
a generous pinch of corn flour
cooking oil
sea salt
freshly ground black pepper
Part one:
Season the cubes of mutton and diced kidney with sea salt and freshly ground black pepper.
Heat some oil in a large saucepan over a medium-low flame. Add the onions and garlic, cover and cook for ten minutes, lifting the lid occasionally to stir. Deglaze the pan with a generous splash of red wine vinegar. Ensure you stir while the red wine vinegar sizzles away.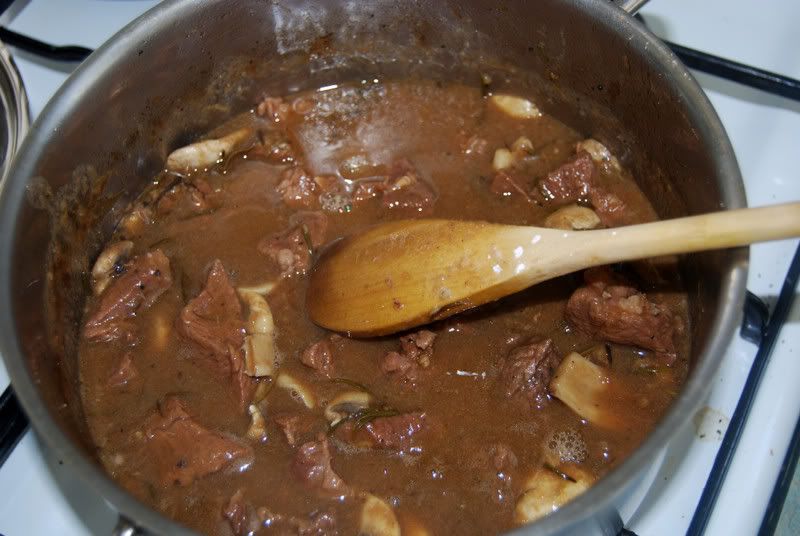 Add the mutton and fry with the lid off, stirring frequently, for four minutes. Add the diced kidney and fry for a further minute, before adding the beef stock, rosemary, bay leaves and Worcester sauce. Increase heat to medium-high and bring to a boil. Reduce heat and partially cover the saucepan. Simmer like this for two to two and half hours, or until tender, lifting the lid occasionally to stir and season with sea salt and freshly ground black pepper. Add the mushrooms five minutes before you intend to turn off the heat. Add the corn flour and stir. Season with more sea salt and freshly ground black pepper if you feel it necessary. Allow to cool gradually in the saucepan, stirring occasionally. Once cool, cover and refrigerate the filling until required.
Part two:
Remove pie filling from refrigerator at least half a hour before you intend to put it in the oven. It'd be a good idea to remove the frozen pastry from the freezer about now too, so it'll be thawed in time. Pre-heat the oven to 180*C. Pour the pie filling into a pie tin. If feel it's too dry, add a tiny splash of stock. Cover the pie tin with the pastry sheet, trimming away excess pastry where necessary. Combine the beaten egg and splash of milk in a cup or other small vessel and brush over the pastry. Use a paring knife or skewer to stab a few holes in the pastry. The holes will allow the steam to escape when the filling is heated, thereby preventing the pastry from going soggy. Grind a little black pepper over the pastry. Place pie in the oven for 40-50 minutes or until the pastry is crispy and golden.